Home car service now available for MG owners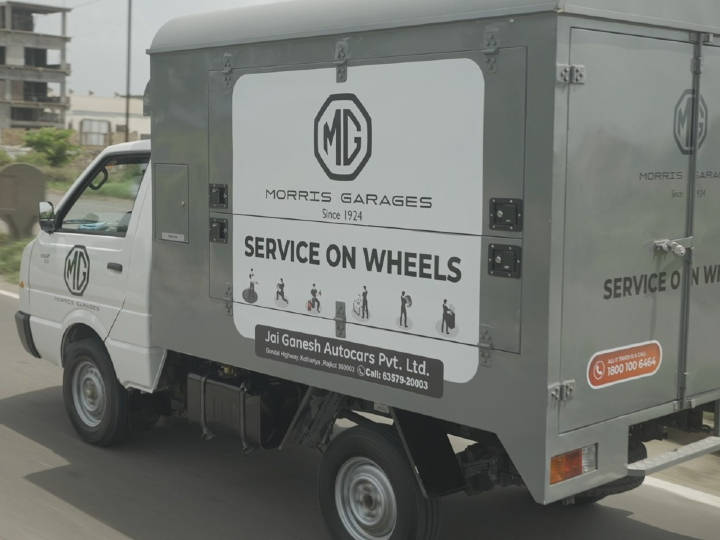 'MG Service On Wheels' offers car repairs and services at your doorstep.

This is one of the few initiatives for customer ownership benefits introduced by MG.

Pilot program launched in Rajkot.
MG Motor India has introduced a new initiative 'MG Service On Wheels' which will allow customers to enjoy the ease of having their engine serviced from the comfort of their home. It was only introduced in Rajkot initially, but the brand plans to roll out the initiative in other major cities across India as well.

How will this work?
You can make an appointment on the MG website and schedule the service at a time that suits you. MG will send a mobile workshop to your door which will be fully equipped with all the tools needed to perform the service. Besides regular servicing and maintenance, the mobile workshop will also be equipped to deal with any unforeseen repairs if necessary.

The mobile workshop will be equipped with the following tools:
Hydraulic scissor lift attached to a hydraulic power pack

Air compressor with wash pump and possibility of dry cleaning

Digital oil dispenser

Waste oil recovery tank

Filter-regulator-lubricator unit (FRL)

wheel balancer with slider

Electrical control box

Spare parts rack
MG's "Service On Wheels" initiative is one of the few customer-centric programs launched by the automaker. Other services to his credit include "My MG Shield" and "MG [email protected]".
Here is the official press release from the automaker:
MG Motor India launches vehicle repair and maintenance at home with 'MG Service on Wheels'
Gourogram, 20, 2022: MG Motor India has launched the 'MG Service on Wheels' initiative to provide customers with car repair and maintenance services from the comfort of their homes. This outreach program reinforces the company's commitment to providing faster and more efficient service for the ease and convenience of its customers. The pilot version of the program has been introduced in Rajkot and the company plans to cover other inland markets in India in the future.
MG Service on Wheels is a comprehensive suite of services to assist customers with the periodic maintenance of their vehicles in addition to meeting any repair and maintenance requirements that may arise. It will cover most service operations that are otherwise only performed in a workshop. The program will be managed and operated by fully trained and certified technicians, backed by MG's seamless customer support. This will strengthen the service network and expand the reach in the existing market.
Read also: MG Launches Gloster Updated at Rs 32 Lakh
"MG Service on Wheels" will operate as a mobile workshop equipped with all the tools, spare parts and other consumables and digital assets necessary to meet immediate and unforeseen but urgent vehicle maintenance needs. The program will be powered by a simple and effortless appointment scheduling system. It will allow customers to connect with the company and schedule their car maintenance at their convenience.

MG Motor has previously launched various customer-facing initiatives, including "MY MG Shield" and "MG [email protected]". While MY MG Shield is a unique, industry-leading automotive protection and care program; The MG [email protected] initiative, rolling out in 2021, is designed to provide contactless repair and disinfection services to customers at their doorstep. In recognition for its innovative and unique services, MG Motor ranked number 1 in JD Power India's 2021 Customer Service Index (CSI) study.
About Service on Wheels
The Service on Wheels initiative will be operationalized through a mobile workshop. The mobile workshop is equipped with a hydraulic scissor lift connected to a hydraulic unit, an air compressor with a washing pump and an additional device for dry washing, a digital oil dispenser , a waste oil recovery tank and a pneumatic line with filter. regulator-lubricator (FRL). In addition to this, there is a fully stacked spare parts rack and lighting by an LED lamp. The workshop vehicle also has a wheel balancer with skid, an electric control box and a first aid kit.
Read also: Here's your first look at the interior of the facelifted MG Hector