FRF Volvo completes Swansea dealership after COVID setbacks
FRF Volvo has welcomed customers to its newly refurbished premium car dealership two years after launching the £ 1.75million project ahead of the COVID-19 pandemic.
The upgraded facility, on Valley Way, Swansea is the latest car outlet to adopt the brand's Volvo Retail Experience (VRE) corporate identity, following recent network developments with Waylands Automotive (Bristol), Paul Rigby (Birmingham) and Lipscomb Cars (Canterbury).
In addition to the new look, the Swansea-based retailer has expanded with a larger showroom with a signature seating area.
He also adopted Volvo Personal Service, which sees the same technician liaise with the customer from the time of booking, to explaining the services – which they themselves have performed.
FRF Volvo Dealer Manager John Radcliffe said: "We are delighted to announce the renovation of our site, not least because this impressive development reflects our commitment to improving customer experience and efficiency.
"After the record successes of our new Volvo models over the past year, we felt it was the perfect time to invest in an impressive new showroom that puts electrification at the forefront of our approach," with eight and an ultra-modern interior, the future of the automobile has certainly arrived at FRF Volvo.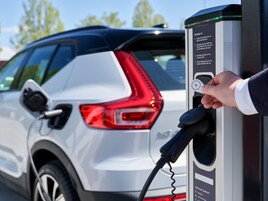 In line with Volvo's commitment to become a fully electric car maker by 2030, the new showroom features eight electric vehicle charging points with 1200 kWh fast charging and FRF has also committed to that no refreshments are served using single-use plastics – in fact, these have been completely removed from the showroom.
Radcliffe said: "We look forward to welcoming potential and current customers for a cup of coffee and a pie, to discuss their purchasing and service needs and the future of electrification."
From the start of the year until the end of October, Volvo Car UK – the 2021 AM Awards Builder of the Year – recorded an 8.4% increase in registrations, in a market down 2.76% .
The brand registered a total of 37,849 vehicles over the 10-month period, up from 41,027 in 2020.