American Express car rental insurance [2021 Guide]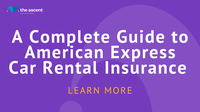 Amex car rental insurance
Also known as Rental Car Loss and Damage Insurance, American Express Car Rental Insurance is included with most Amex cards, including business and travel credit cards. However, it is important to note that the coverage will vary depending on the type of card you have. For example, a premium credit card with a higher annual fee may have greater coverage than a non-premium rewards card.
Most Amex cards, with or without an annual fee, have a maximum coverage of $ 50,000. Some of the more premium Amex cards have a higher benefit limit of $ 75,000.
Here is a list of cards that currently offer up to $ 75,000 in coverage (conditions apply to all cards on this list):
What is covered
Always check the terms of your credit card to see what type of coverage you are getting. In general, you can expect the following to be paid:
Repairs for damage and theft up to the amount covered ($ 50,000 to $ 75,000) or the actual cash value of the rental vehicle, whichever is less
Costs beyond repair, such as necessary towing costs or appraisal fees
Amex car rental insurance covers the cardholder, their spouse or domestic partner and the authorized drivers specified on the rental agreement. It provides secondary insurance that comes after any other primary insurance you purchase. If you maximize the benefits covered by your auto insurance, your Amex rental car insurance could take over for additional costs.
For an additional flat rate per rental, American Express offers premium auto insurance. It offers primary coverage up to $ 100,000, but does not cover vehicles rented in Australia, Ireland, New Zealand, Israel, Italy or Jamaica.
What is not covered
There are limits to your American Express car rental insurance. This includes the following:
Certain types of vehicles are excluded, including most vans, commercial vehicles, any truck with a gross weight rating of 10,000 pounds or more, all-terrain vehicles, motorcycles, recreational vehicles, or any vehicle that rental company did not provide.
Vehicles that are at least 20 years old or have not been manufactured for 10 years or more are excluded.
Vehicles rented from the following companies are also not covered: moving companies, car dealerships, body repair shops or car sharing companies.
If you participate in illegal activity or intentionally take drugs, your American Express car rental insurance will not cover any losses.
This insurance does not cover vehicles rented in New Zealand, Australia, Italy or any other country subject to global sanctions administered by the Office of Foreign Assets Control.
It's a good idea to carefully review the terms of your American Express car rental insurance, as there may be more exclusions. In addition, Amex may update these terms at any time. Reviewing these conditions will help you make sure you are covered during your rental period.
How to get coverage
To activate coverage for your Amex rental car insurance, you must reserve and pay the full cost of a rental car with your qualifying Amex card. You will also need to decline full collision insurance and other similar rental car coverage. Once you have done the above and signed the rental agreement, you will take the car into your possession and be able to use your Amex car rental insurance benefits.
How to file a complaint
Making a claim for your American Express car rental insurance is easy. Visit americanexpress.com/protectionbenefits or call 1-800-338-1670. If you are outside the United States, you can call collect at 1-303-273-6497. This should be done as soon as possible, but you will have it within 30 days of the loss.
If you receive a complaint form, be sure to fill it out and answer all questions. If you do not receive one within 15 days of filing your claim, you can write to them explaining your covered event and the details of your claim.
You must submit proof of loss within 60 days of filing your claim. You may be asked to provide documents, such as a copy of your:
Repair invoice
Rental agreement
Billing slip
Auto insurance coverage
Applicable police report
Once the claim is deemed payable, you will receive your benefits, usually within 30 days.
If you don't have an American Express card yet but are looking for a new option, be sure to consider this coverage when comparing credit cards. There are many cards out there, but not all of them will have a benefit like Amex car rental insurance.
Still have questions ?
Here are some more questions we answered: